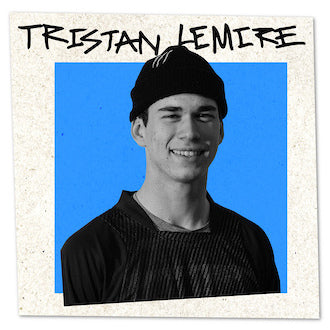 Discipline:
DH Racing

Preferred Reach:
My DH bike reach is 515! I like to have space to move around haha.

Height & Weight:
185cm & 170lbs

Preferred Wheelsize:
29ers FTW!
Q & A
Favourite place to ride?
First question is already so hard. Either Highland, Whistler or Morzine.

How did you get into riding?
I got into riding at 7 years old just because I saw an ad for mountain biking while skiing at Bromont with my family!

Favourite trail of all time?
Ahh man, there are so many good trails, but the only one I can think of right now is Dirt Merchant to lower A-line.

Favourite rider to watch?
My favourite racer to watch is probably Loris Vergier and for the freeride side of things I'm a big fan of Semenuk, Jaxson Riddle and Dylan Stark.

Favourite food / colour / movie?
Can't beat Italian food. I like red a lot, no clue why, haha. Not a big movie watcher, I actually don't even have a Netflix account, but I do like watching comedy movies when I'm on the airplane.

What are you into outside of bikes?
I love skiing and basically everything on 2 wheels. I'm also very into skateboarding, bmx and moto!

Scariest riding moment of all time?
I've sure had a few, probably a few too many, haha. But one that does come to my mind is an OTB I did on a steep Squamish slab with an open face on a chill trail ride, luckily I was all good!

Favourite OneUp product and why?
I can't live without the OneUp EDC tool. Always so useful when you really need it! I also love the fact that I have an amazing tool with me at all times without having to worry about carrying one in my pockets!

If you're put on the spot and have to tell a story, what is the story you tell?
Haha, I would probably tell a story about me and some buddies taking a quick day trip down to Highland MTB park in NH and having the car blow up on our way there.

Favourite trick, to do or to see done?
I'm not too much of a trick guy but I do love to do t-bogs! For me, a nice dumped/corked 360 is probably one of the sickest looking tricks.

Who would you be if you could be any non-mountain bike athlete?
Probably Tyshawn Jones or Chase Sexton.

Air or coil shock?
Air in the front and coil in the rear.