The Free Radicals
The Free Radicals are professional trail advocates, riders and ambassadors of stoke. When they're not riding, they're in the woods digging, advocating for the environment and protecting our trails.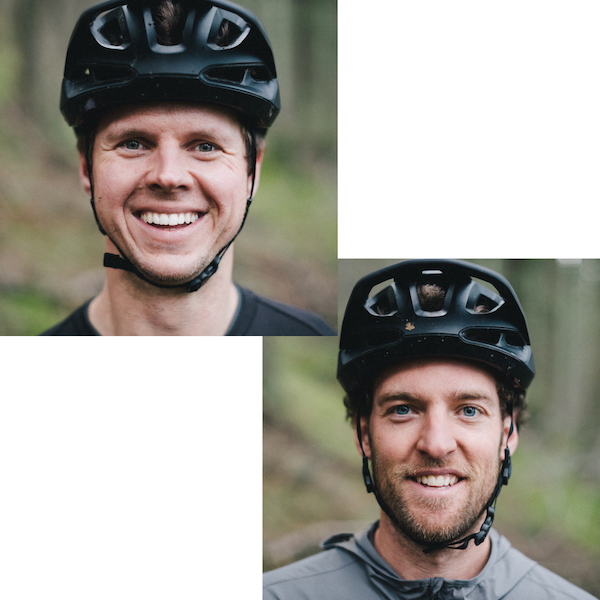 Discipline:
Freeride

Preferred Reach:
500mm

Height & Weight:
Mark is 6'2" and trying to get to 200lbs. Will is shorter than Mark. But Mark answered the questions so we get his info.

Preferred Wheelsize:
29"
Q & A
Favourite place to ride?
Somewhere in the deep, dark woods of Oregon or in the Chilcotins.

How did you get into riding?
LaRocca XC mountain bike camp at Camp Fortune in Chelsea, Quebec, circa 2001.

Favourite trail of all time?
Two Stroke Smoke.

Favourite rider to watch?
I don't actually enjoy watching mountain biking! I predominantly watch team sports!

Favourite food / colour / movie?
Tacos / Red / Days of Thunder

What are you into outside of bikes?
Rebekka.

Scariest riding moment of all time?
Watching Will break his wrist. I didn't know bones were so white.

Favourite OneUp product and why?
35mm handlebar because it feels better than any other bar I've tried.

If you're put on the spot and have to tell a story, what is the story you tell?
It would have to be about the first time I ever rode Jack the Ripper in Pemberton. Woefully underprepared, hungover yet somehow managed to be home before dark.

Favourite trick, to do or to see done?
Tricks are for kids.

Who would you be if you could be any non-mountain bike athlete?
Captain of the Montreal Canadiens.

Air or coil shock?
Rockshox Super Deluxe Ultimate Air.